End of Watch (UV/HDX) *A Must Have Kickass Movie with Balls Out Police & One Gang Bang Kicking & Screaming Thrilling Movie | Newly Added*
---
From the writer of Training Day comes a gripping, action-packed cop drama starring Jake Gyllenhaal and Michael Peña. In their mission to abide by their oath to serve and protect, Officers Brian Taylor and Mike Zavala have formed a powerful brotherhood to ensure they both go home at the end of watch. But nothing can prepare them for the violent backlash that happens after they pull over the members of a notorious drug cartel for a routine traffic stop.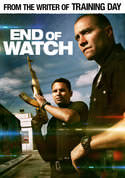 This movie is Ultraviolet HD and redeems in 1080P-HDX Format. Digital HD. Our Double Redemption Policy B applies to this code for just redemption of the Ultraviolet portion only. Click on the Title or the Picture for Trailer! Guaranteed Safe Links as Always...
Site Owner's Notes: "End of Watch is so rare not even listed inside of Amazon, Microsoft or YouTube Movies. This movie brought me out of my seat laughing and leaning back in it saying damn that's tight. 9.4 out of 10 Stars."

---
This product is out of stock